Women-led Independent Voter Group Against Recall;  Asks Lawmakers to Disavow Endorsement By Anglo Man Using Sexist Remark Against Latina Lawmaker
He that is without sin among you, let him first cast a stone at her. John 8:7
Phoenix, AZ --  Somos Independents is an independent voter group led by women comprising of a former long life Republican voter and former long life Democratic voter.  Independent voters are now the largest voting bloc in Arizona, and we believe it is time to blow the whistle against male chauvinist and sexist remarks made against Democratic lawmaker Catherine Miranda. It is unacceptable for Robert Rowley -- leader of Stonewall Democrats, to refer to Democratic lawmaker Catherine Miranda as a "cunt."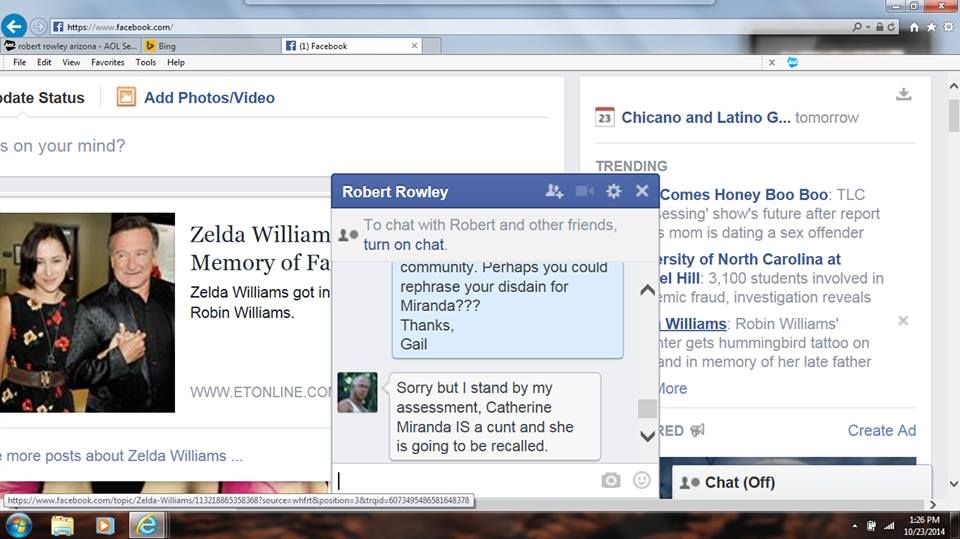 Robert Rowley
's referring to Democratic Latina lawmaker as a "cunt" is the height of white male privilege perpetuating women of color into believing they have no value. As a Mexican-American / Chicana-led organiztion, we cannot turn a blind eye nor will we allow Anglos to refer to Chicanas and/or Latinas as a "cunt."  We believe Rowley takes

away

Catherine Miranda

's humanity when he referred to her as a body part -- the vagina in the most horrific terms.
We implore below Democratic officials to disavow Stonewall Democrats endorsements forthwith.
Governor: Fred DuVal
Attorney General: Felecia Rotellini
Secretary of State: Terry Goddard
Superintendent of Public Instruction: David Garcia
Corporation Commission: Jim Holway and Sandra Kennedy
LD2 House: Demion Clinco
LD3 Senate: Olivia Cajero Bedford
LD8 Senate: Barbara McGuire
LD9 House: Randall Freise and Victoria Steele
LD10 Senate: David Bradley
LD10 House: Stefanie Mach and Bruce Wheeler
LD11 Senate: Jo Holt
LD11 House: Holly Lyon
LD13 Senate: Terri Woodmansee
LD16 Senate: Scott Prior
LD16 House: Cara Prior
LD17 Senate: Kristie O'Brien
LD18 Senate: Janie Hydrick
LD19 Senate: Lupe Chavira Contreras
LD20 Senate: Patty Kennedy
LD21 Senate: Carolyn Vasko
LD22 House: Larry Woods
LD24 Senate: Katie Hobbs
LD24 House: Lela Alston and Ken Clark
LD26 House: Norma Numoz and Rebecca Rios
LD27 Senate: Aaron Marquez
LD29 Senate: Martin J. Quezada
LD29 House: Ceci Velasquez
LD30 House: Debbie McCune Davis