| | | | |
| --- | --- | --- | --- |
| Davey D Interview with Rap Artist Sticman | | | |
Written by Davey D ID2674
Wednesday, 31 May 2006 03:31
The Art of Emceeing & Keeping It Hood-An Interview w/ Stic.man By Davey D
Last weekend Stic.man of the dead prez gave the keynote address at the Grind and Glory conference in San Francisco.
This was a conference dedicated to helping out up and coming artists make it in the business. Here Stic talks about some of the concepts in his new book, 'The art of Emceeing', including how to maintain breath control, vary your flow and keep your business game tight. Stic.man talks about his admiration for Big Daddy Kane and explains how one can step their rap game up by studying him.
Afterwards we interviewed Stic where he elaborated on those topics and got in-depth on a number of others. You can peep that interview in our next podcast.
After Sticman of dead prez delivered his keynote address at the Grind and Glory Conference in San Francisco, we sat down with him and had an in-depth discussion about a number of important topics.
We started off by building upon some of the concepts he laid out in his book about emceeing and how one can improve his or her game. Stic pointed out the importance behind being on top of your rhyme game especially if you wish to convey important political and social messages. Aside from Big Daddy Kane, Stic noted that the greatest emcee of all time is Malcolm X.
He explained that studying Malcolm's approach toward public speaking and debating is a mindset that all emcees could benefit from. He noted how Malcolm always prepared himself to do battle by anticipating what his enemies would say and how his audience would react. Stic said it was his attention to detail and perfection are traits that he adapted for himself.
Stic also talked about the importance of being a good writer and being able to freestyle. He went into detail about working with artists like Jay-Z and Edi of the Outlaws who can go into the studio and spit detailed, complex rhymes without writing them down.
Stic also explained the importance of understanding melodies. He pointed out how his mother was a singer and a drummer and that he came up having melodies embedded in his head. This of course has translated into dead prez's music.
In the second part of this interview, we talked about the types of challenges dead prez faced in terms of attracting a Black audience from the hood and avoiding what many have dubbed the Cotton Club syndrome. He explained the types of behind the scenes battles the group faced when they first signed with Loud Records who insisted and deliberately marketed the group to suburban white audiences. There was a push to keep the group away from the hood and it led to dead prez being perceived as uncooperative and troublesome.
Stic gives a detailed breakdown of the behind the scenes drama they went through with the label that will blow you away. He noted how label heads would tell them that their political messages would go over the heads of people who lived in the hood and they needed to be focused on a more 'intelligent' audience. This meant that no promotional dollars or resources would be directed at any efforts the group wanted to target to what they felt should be their ideal audience.
Hearing what he says explains a lot of things that has taken place within Hip Hop and they types of typecasting that exists especially when powerful record labels get involved.
We conclude our interview by talking about emcee battling and stepping your game up. We ask Stic how he would go about battling great emcees like his idol Big Daddy Kane and whether or not him and his partner M-1 have lyrical throwdowns.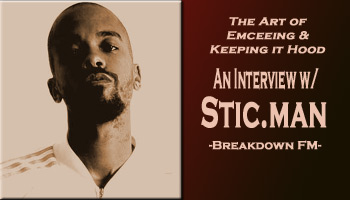 Click Here to Read article and listen to interview
Stic.man's Grind and Glory Conference Keynote Speech
Our Interview with Stic.man of dead prez