| | | | |
| --- | --- | --- | --- |
| Holy Hip-Hop is in the House | | | |
Written by Davey D ID2644
Tuesday, 23 May 2006 05:00
Holy Hip Hop is in the House: An Interview w/ Play of Kid-N-Play - by Davey D
It seems like only yesterday that we Hip Hop was dominated by the free spirited fun loving antics of Kid-N-Play. We all went and saw all the House Party Movies. A whole lot of us went around sporting high top fades. Many of us twisted an ankle or pulled a muscle trying to execute the trademark dance moves of Hip Hop's 'Laurel and Hardy'. Sadly with all the gangsta rap and overt marketing of pathological street tales, the days of Kid-N-play and Hip Hop, at least on a commercial level, being a fun thing seems to be forever a thing in the past.
A couple of week's ago during the Atlanta Hip Hop Film festival we caught up with Christopher 'Play' Martin to find out what he and Kid have been up to. We also wanted to find out how he was doing in the aftermath of some heartbreaking stories we heard about him, being suicidal. More importantly we talked to Play about his new career as a film director and his foray into what is one of Hip Hop's largest sub genres-Holy Hip Hop.
During our interview Play talked about how large Holy Hip Hop is with hundreds of groups turning their talent and lyrics toward praising God. He explained that Holy Hip Hop was inevitable and is the natural progression for Hip Hop. He joked around and said God saved the 'best for last'.
Play noted that many of the artists and songs within Holy Hip Hop do not fit into nice little stereotypes of being over the top with Hell and Brim fire or holier than thou personas where they are trying to shove Christ down your throat. But make no mistake Holy Hip Hop cats attack the mic and hold their ground with the same fierceness as any emcee repping his block, his crew or the material things he feels he needs to brag about.
Artists like Canton Jones who's songs we play in the interview), the Gospel Gangstas and the Cross Movement to name a few are no joke. Many of these artists either came from the rough side of town or like Play went through some serious tribulations that resulted in them wanting to be more spiritually connected. Play went on to talk about his personal journey which had him one day waking up and no longer having the desire or passion to continue doing the whole Kid-N-Play routine.
He felt bad because he knew he was leaving a lot of people including his crew members Kid and DJ Whiz hanging and in economic peril, but Play was hungering for something more. He talked about how he went into a deep depression and how things had gotten so bad that he would keep a 38 pistol near him so he could kill himself. He credits him rediscovering Jesus as the reason for the turn around and being born again. Play also talked about how he could totally relate to the situation and decision making process comedian Dave Chappelle described when explaining why he walked away from his 50 million dollars deal.
During our interview we talked about Kurtis Blow and his Hip Hop Church which has gotten a lot of press lately and whether or not Play had hooked up with him. Play said he was proud of what Kurtis is doing and then went on to note that had it not been for Kurtis Blow there would be no Kid-n-Play. He talked about how Kurtis would always look out for them and offer words of encouragement when the group was first starting out and how he eventually hooked them up with Jellybean Benetiz who was a top notch producer at that time in the mid 80s.
We talked about the art of emceeing and going into a zone and whether or not being spiritually grounded helps that process. Play explained that it does. We also talked about how some of Hip Hop's dopest emcees role were spiritually connected to Islam have played in Hip Hop and if there was any comparison to what is taking place within the Holy Hip Hop Movement. Play made it clear that he no longer raps and prefers to do things behind the scenes.
His new projects include the directing the movie Holy Hip Hop which has been drawing sold out crowds everywhere and is soon to be on DVD. He is also doing a documentary called 'Welcome to Durham' which talks about the challenges facing that North Carolina community because of the large influx of gangs. He has also teamed up with 9th Wonder of the group Little Brother and together they are working on a project for NCCU (North Carolina Central University) called the Architects of Hip Hop' where they interview and profile ground breakers within Hip Hop.
Lastly Play stated that there is likely not to be another House Party movie. He feels that it would be best if he and Kid leave things on a high note. However, the pair are working on doing a remake of the hit movie 'Uptown Saturday Night'. We'll keep you posted on how things unfold.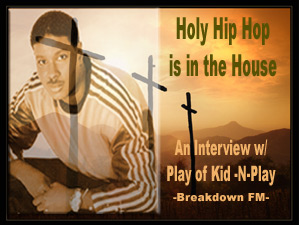 Click here to Read Article
powered by ODEO and Breakdown FM