| | | | |
| --- | --- | --- | --- |
| Hip-Hop's Justo Faison Last Interview w Davey D | | | |
Written by Davey D ID2614
Monday, 15 May 2006 03:02
The History of Mixtapes by Davey D
One year ago (May 14th), we lost Justo Faison to a tragic car crash as he was enroute to Virginia in the early morning hours. For those who don't know Justo was an incredible cat who was the hip-hop deejay's best advocate. He founded Justo's Mixtape Awards and worked tirelessly to always champion the cause of the DJ…
About a month or so before he passed we had Justo on our radio show to give us a history lesson on the Mixtape and the Mixtape DJ. Sadly it was the last time I spoke with him, before getting the sad news about his passing…
We hope people who listen to this interview not only gain the knowledge but also come to understand and appreciate the passion and commitment Justo had toward Hip-Hop and in particular the DJ who is far too often overlooked.
In this interview Justo walks us through the time-line of the mixtapes starting with people like Brucie B and Kid Capri all the way up to Ron G, DJ Clue, Green Latern and K-Slay. He talks about how the mixtape has evolved to become an institution that is now used by politicians and major corporations to promote product and ideology.
He also talks about his plans for the annual mixtape awards as well as his plans to release a documentary on the Mixtape History.
In Remembrance of Justo we offer up this Interview. Please reflect and build upon his words.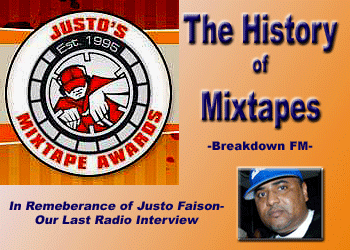 powered by ODEO