| | | | |
| --- | --- | --- | --- |
| From the Vaults - Hip-Hop's Eminem w Davey D 1989 | | | |
Written by Davey D ID2696
Wednesday, 07 June 2006 00:59
Straight From the Vaults-Eminem 1989, on hip-hop, race, Detroit and going commercial by Davey D
Back in 1999 Eminem was starting to make his foray into mainstream hip-hop and rap consciousness. He had already generated a major buzz within hip-hop underground circles as a rap battle emcee that was vicious on the mic. Many of us knew him from his frequent appearances on the Sway & King Tech Wake Up Show. Others knew him from his stellar performances in the Rap Olympics. Folks in his native Detroit knew him as the next big thing destined to make it in hip-hop.
When we sat down with Eminem, he had just released the song and video to his debut song on Aftermath called ''My name Is''. The song had a humorous poppy feel and for the most part seemed to be a far cry from the underground grittiness we were accustomed to hearing.
In this interview we talked to Em about the role race was playing in the way he was being marketed to the public. We also talked to him about maintaining an underground Hip Hop aesthetic while going mainstream. We also talked to him about life in Detroit and the plans he had for his homeboys Royce 5''9", Proof and Bizarre Kid. We talked to him about Kid Rock, Canibus, Lauryn Hill and his willingness to battle anybody who dared to step to him...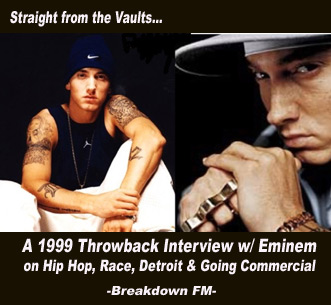 Click Here to Read article and Listen to Interview
powered by ODEO