| | | | |
| --- | --- | --- | --- |
| 1990 Throwback Interview w Hip-Hop's Public Enemy | | | |
Written by Davey D ID2695
Wednesday, 07 June 2006 00:11
1990 Throwback Interview w/ Hip-Hop's Public Enemy on hip-hop, race and media by Davey D
This is a trip back into hip-hop time when rap group Public Enemy was bursting onto the hip-hop scene and capturing the hearts and minds of millions of hip-hop and rap fans.
The year was early 1990 at the Henry J Kaiser Convention Center in Oakland. Public Enemy had just finished performing at a sold out concert and held a press conference.
Chuck D held court along with Professor Griff and a couple of the S1Ws. Chuck spoke about race, media control and the responsibility he and other members within his group had taken on.
As you listen to this never before aired interview, keep in mind that the tape recorder had a shotty battery which meant that the original copy had everybody talking at a high pitch. Back then correcting that was rather cumbersome. Nowadays we can do that easily. Hence that is why you may hear fluctuations in the pitch of Chuck D's voice.
Enjoy the interview.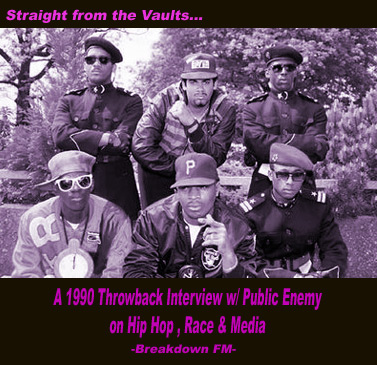 powered by ODEO