| | | | |
| --- | --- | --- | --- |
| Inside the Mind of Hip-Hop Star Lupe Fiasco | | | |
Written by Davey D ID2671
Tuesday, 30 May 2006 03:33
Inside the Mind of Lupe Fiasco by Davey D
Lupe Speaks to us about Chicago Hip Hop, Hip Hop and Politics, gentrification, genocide in Uganda and the importance of making intelligent music.
Last week I along with my San Jose Mercury News colleague, music columnist Marian Liu got a chance to sit down and build with Chicago based rapper Lupe Fiasco. Right now, he is being hailed as Hip Hop's next big superstar because of his dope beats, nice rhymes and overall intelligent approach toward music. His album 'Food and Liquor which has already seen uncompleted versions leaked through the Internet, is one of the most highly anticipated for the year. The tracks that people have thus far heard has caused a major buzz.
According to Lupe, many of the albums key features had not been recorded at the time of the leak. They included songs with Kanye West, Jay-Z, and Jill Scott. Because Lupe is a perfectionist and wants to make sure fans get the best that he has to offer, hence he delayed the album's release for another month in order to record new songs. The final product will be a much different version then what was leaked.
During our conversation Lupe talked about the city of Chicago and how it's blues and jazz heritage, along with its cultural legacy and it's 'in your face' political climate influenced his music. He talked about how his father was part of the Black Liberation struggle in the 70s and how many of those messages are reflected in his music.
Lupe added that he approached his album much like a jazz musician, where he sought out melodic beats and constructed lyrics that left a lot up to people's personal interpretations.
This is evident in his hit song 'Kick Push', where many have speculated that Lupe was not just rapping about skateboards. The water cooler talk is that Lupe was also making references to the drug hustle that often takes place in the housing projects that he references in the song.
Lupe said that he wants people to be left wondering if there was deeper meaning. To add a little bit more confusion, he explained that the inspiration for the song was a white kid who works at a skateboard shop in Chicago called 'Uprising'. He said that the kid would tell him lots of stories about skating in the urban environment and that Lupe wanted to tell that story in a song. He says the skate boarder is very happy with the outcome.
Also during our conversation Lupe talked about the challenge he faces in getting relevant, intelligent messages out to the masses. He says he studies the art of satire and has learned how to dress up his music in such a way that it disarms people.
The song Kick Push was his way of getting in the door and becoming relevant. Coming down the pipe will be hard hitting political songs like 'American Terrorist' where he talks about this country's historical contradictions in administering justice and allowing violence to be reaped upon its citizens. He said he wants to use his album to take away the shades of popular beliefs that many have.
He also has some more introspective songs that allow listeners to get to know Lupe better. For example, he has a song on the album that talks about how shy he used to be when it came to speaking to women he found attractive.
During our interview we discussed Hip Hop and Spirituality and whether or not Lupe's Muslim beliefs play a role in his music. He says that he went through a period in which he was rocking gold chains and trying to ball out. He said like many people who came before him he reached a point in his life where he realized that there had to be something more like a higher power to fulfill him.
We also talked about the importance of Hip Hop being used as a motivating force in politics. He felt that because we are often limited to a few avenues that allow us to speak directly to the masses, that rappers should take advantage and encourage people to become politically aware.
During our discussion we were informed that a young man barely 16 years old was shot and killed right down the street from where we sitting at Moses Music in East Oakland. Sadly the body was visible from the storefront. Lupe was scheduled to do a free show that afternoon for the 200 hundred or so kids from the neighborhood kids in what was billed as The Blockyard. During our interview we kept hearing sirens whizzing by and then later a police helicopter, but we had no idea that this tragedy had taken place so close. Now, Moses Music or the Blockyard had nothing to do with the drama, but because it was on the same block, the event was shut down and we suddenly found ourselves locked inside the store which became part of a larger crime scene investigation.
After we took a break and gathered back up our thoughts we asked Lupe to comment on what had just taken place. He talked about how its up to all of us especially artists to try and help create a climate where violence, guns and drugs are 'not cool'. He said too many people are seeking out things that they think are cool including bad, self destructive behavior…Sadly, this destructive behavior is being rewarded by large corporations who in turn reap financial and even social benefits from the drama.
Lupe explained how we''re all going to have to take some time out and work with the youth. he said that many of them are not getting the proper food, and love to stay spiritually grounded and healthy.
Lupe went onto explain how the end game is to get us out of neighborhoods and keep us in disarray and at each other in the process. he talked about how all the housing projects have been torn down in Chicago and
Lastly we talked to Lupe about the campaign he was involved in dealing with the tragedy impacting young kids in Uganda are being kidnapped and abused. He talked about how children some as young as 4 who are called Nightwalkers would leave their homes and seek safety in places guarded by the military.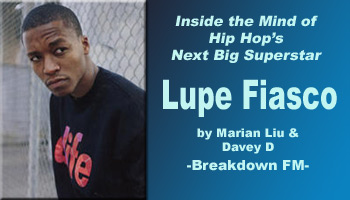 powered by ODEO and Breakdown FM