The Legacy of Hip Hop's Greatest Band-Full Force By Davey D
Hip Hop would not be Hip Hop had it not been for six men who held it down in the streets of Brooklyn. We're talking about Paul Anthony, B-Fine, Curt-T-T, Shy Shy, Baby Gerry and the ever colorful Bow-Legged Lou. Collectively these three brothers and three cousins are known as Full Force and if you never heard of them, fret not because you've definitely heard their music.
The list of acts they've produced and groomed is too long to name off, but let's start with groups like UTFO, Kurtis Blow and Real Roxanne and move on up to Lisa Lisa and Cult Jam and Samantha Fox. Of course we have Full Force getting busy and producing music for the Godfather of Soul-James Brown, the Godfather of Blues-BB King, the late singer Selena and the modern days kings and queens of pop music like Britney Spears, LFO, the Backstreet Boys and most recently the Black Eyed Peas and Rihanna. Full Force has more than gotten 'busy'.
If that's not enough, they have been a dominating force in their own right. Songs like 'Alice I Want You Just for Me' and 'Unfaithful' were monster hits for them in the 1980s. The coupled that with sizzling stage shows and memorable movie appearances in ground breaking flicks like 'Krush Groove' and 'House Party'
In Hip Hop's pioneering days of the 1970s, these fellas used to hang out at spots where legendary deejays like DJ Hollywood and Luvbug Starski would play. Although they started out as an R&B band which was the anti-thesis to Hip Hop, the group made it a point early on to break down walls and merged the two genres together. They pushed this fusion to the point of recording a song called "hey DJ' which was in line to be Hip Hop's first recorded rap record. Unfortunately for them, the Sugar Hill Gang's 'Rapper's Delight' beat them to the punch.
We sat down with Bow-Legged Lou who shared with us Full Force's often overlooked legacy. Hearing him speak was incredible as he laid out the rich history the group. They were behind so many landmark moments that it gets overwhelming taking it all in. From sparking the Roxanne battle sagas to producing Hip Hop's first love anthem 'Hey Lover' for UTFO to recording one of the first New Jack Swing records, 'Alice', Full Force has and remains a force in the game.
We talked to Bow-Legged Lou about their experiences working with James Brown and what he taught them and how they helped warm him up to Hip Hop. He noted that when they first met James Brown they were in awe and were advised to always address him as Mr. Brown. He said that Brown helped them step their game up significantly and at the same time, they opened him up to Hip Hop and delivered two top ten hits for the Godfather of Soul.
We also spoke about the sometimes controversial cross section of Hip Hop and R&B. Lou offered up a lot of keen insight into this and pointed out the irony of early Run DMC insisting that Hip Hop was all about two turn tables and a microphone while they were embracing musicianship as 'The Kings of Rock'.
Lou talked to us about some of the early battles they had with established bands like Cameo who felt threatened by the group as they were starting to get their shine on. He also built upon the challenges the group faced in the urban music arena, where Black record executives fronted on them after they had helped make them millions by producing hit records. Many stopped taking their phone calls when they perceived the group as no longer being hot. This lead to Full Force learning to be versatile and branching out by making noise with pop music acts like Britney Spears and Backstreet who they blew up.
Lou also talked about the important role the West Coast which has long been funk oriented, played in the group's success. As quiet as kept it was places like the SF-Oakland Bay Area that first gave the group love and helped blow them up by getting behind and breaking songs like 'Unfaithful'.
We concluded by talking about the importance of being innovative and staying a step ahead in the music biz. Full Force has anumber of new projects they are getting ready to drop which they guarantee will oce agian change the game.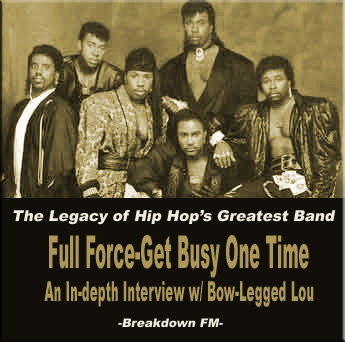 Click Here to Read article and Listen to Interview
Full Force Interview pt 1 w/ Bow-Legged Lou
Full Force Interview pt 2 w/ Bow-Legged Lou